We have chosen not to put images of extreme cruelty to animals on this page BUT we are happy to make our viewers aware of the issues that cause them and the contact details of organisations that deal directly with them. We shall add new information from various protection groups, including petitions and requests for homes and funds when received.
………………………………………………………………………………………………………….
June 2021
The UK Government has just launched a Call for Evidence on whether to ban the import and sale of fur: https://buff.ly/3wt4Dqo. Humane Society International UK has put together some guidance: https://buff.ly/2TZHygx. The deadline for responses is 28 June.
/////////////////////////////////////////////////////////////////////////////////////////////////////////////////////////////
April 2021
Petition · Supermarkets: Stop Selling Suffering! · Change.org
////////////////////////////////////////////////////////////////////////////////////////////////////////////////////////////////
Very useful database to ensure you only buy products not tested on animals
Search for Cruelty-Free Companies, Products, and More | PETA
////////////////////////////////////////////////////////////////////////////////////////////////////////////////////////////////////
March 2021
In 2019 the Greyhound Board of Great Britain (GBGB) data confirmed 4970 injuries & 710 deaths (14 per week).This petition asks the Government to introduce legislation to abolish greyhound racing, via managed shutdown of activities, and ensure welfare of redundant dogs through a levy on the industry.
Ban greyhound racing to end unnecessary deaths & suffering of racing dogs – Petitions (parliament.uk)
/////////////////////////////////////////////////////////////////////////////////////////////////////////////////////////////////////////////////
March 2021
Many of the UK's leading supermarkets are selling suffering. Suppliers for Morrisons, Sainsbury's, Asda, Coop, Iceland, Tesco, Aldi and Lidl are breeding millions of overgrown FrankenChickens who are unable to stand under their own bodyweight, forcing them to lie in their own waste inside overcrowded sheds until they are slaughtered at just a few weeks old.
Petition · Supermarkets: Stop Selling Suffering! · Change.org
……………………………………………………………………………………………………………
Nov 2020 At a time when land ownership and use is being scrutinised, and huge swathes of Scotland are being used for shooting grouse, there is a petition which calls upon the Scottish government to take this opportunity to Revive the moors to benefit local communities, our environment and our wildlife instead. Visit the League Against Cruel Sports website or this link https://e-activist.com/page/33064/petition/1
……………………………………………………………………………………………………………………..
Aug 2020 Help save the Asian Elephant from tortuous training methods for human entertainment by signing and sharing this petition:
……………………………………………………………………………………………………………………………..
11th Feb 2020. This post is from Argos Sanctuary in Cyprus. Many beautiful animals requiring homes. Can you help or share their calls for help?
8th Feb 2020.
This is a petition from Peta. This aligns with my own research on the efficacy of the animal research model. The US FDA's figures inform us that between 92-97% of drugs tested on animals either fail to make it to market or have no positive effect on human health. Many drugs that have been tested on animals are harmful/result in death to animals and i have listed many examples in Ch 9 of my book. In essence our reliance on this model is detrimental to progress in human health and is of course, responsible for horrific and painful deaths of millions of animals across the decades.
Urge the Government to Commit to Ending All Experiments on Animals
European Union Directive 2010/63/EU on the protection of animals used for scientific purposes is clear – the EU's ultimate objective is to replace all experiments on animals. Shamefully, Britain has yet to commit to this important goal in its own national legislation – and as Brexit fast approaches, the UK government is running out of time.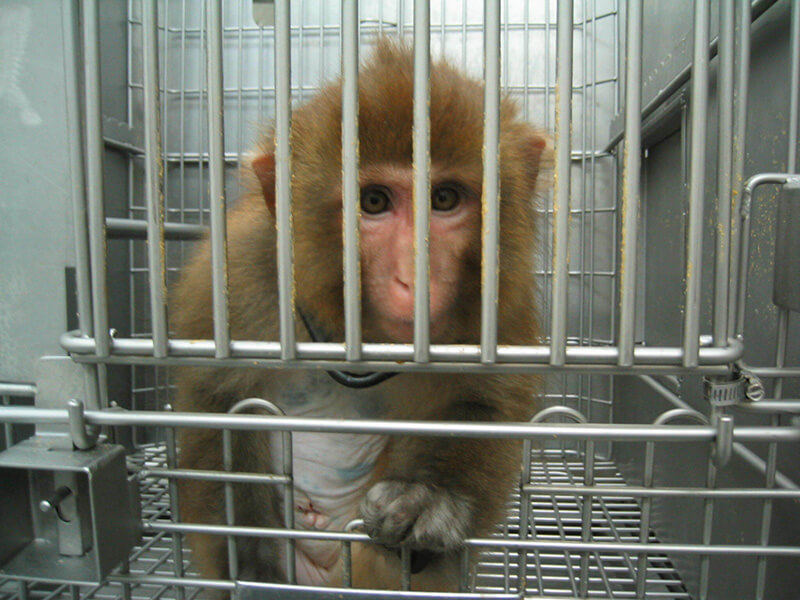 Over 90 per cent of drug trials in humans fail, even though the drugs have already passed experiments on animals. The problem is that the differences between species are so vast that results in animals are, at best, a very poor approximation of what will happen in humans or, at worst, dangerously misleading. A paradigm shift away from all studies using animals is needed. The government must create a clear strategy and timeline for replacing animals used in experiments. With greater investment in animal-free science and bold policy initiatives, far more promising cures and treatments for humans as well as more effective and reliable methods for toxicity assessment can be developed.
Finally – and crucially – committing to this goal would also help put an end to the almost unimaginable suffering of millions of animals. It's time for the UK to commit to completely replacing all experiments on animals.
Please sign our petition to the Home Office; Department of Business, Energy and Industrial Strategy; and Department of Health and Social Care. Here is an example of the letter to write or go to the website and simply click the petition.
Urge the Government to Commit to Ending All Experiments on Animals
To: Home Office; Department of Business, Energy and Industrial Strategy; and Department of Health and Social Care
Please commit to the EU's final goal of fully replacing the use of animals in scientific procedures to ensure that the UK is not left behind – in either animal-welfare standards or scientific innovation – in the wake of Brexit. Although EU Directive 2010/63/EU (the Directive) has been transposed into the Animals (Scientific Procedures) Act 1986, the UK has not formally adopted the EU's ultimate goal of replacing the use of animals in scientific procedures, as reflected in Recital 10 of the Directive. We, the undersigned, respectfully request that the government take this official step immediately, establishing a clear policy within a legislative framework, mandating an end to experimentation on animals, and providing a clear strategy and timeline for achieving this goal. Redirecting funding away from unreliable and unethical tests on animals and instead investing in superior, non-animal methods will benefit humans, animals, and the future of science in the UK.
Yours sincerely,
//////////////////////////////////////////////////////////////////////////////////////////////////////////////////////
6th Feb 2020
Animal Aid have a new campaign on banning the whip in horse racing, which is one of the examples given by St Cyril of Jerusalem, of the 'Pomp of the Devil':
We have a powerful opportunity to make a real difference to the lives of race horses. There is a great deal of discussion within the racing industry about the future of the whip, and it is crucial that we show the overwhelming public support for a ban. Until the racing and exploitation of animals for 'sport' is a thing of the past, a ban on the whip is a necessary first step.
A public opinion poll in 2018 found that 68% of respondents oppose the use of the whip in racing. When only including those who expressed a view, this figure rose to 83%.
Please will you write to your MP straight away and ask them to sign Early Day Motion 135 calling for a ban on the whip.
Thank you,
Fiona Pereira
Campaign Manager
/////////////////////////////////////////////////////////////////////////////////////////////////
3rd Feb 2020 St Cyril of Jerusalem describes hunts as one example of 'the pomp of the devil'. Here is why:- Next Wednesday, trophy hunters with a yen for slaying some of the world's most endangered and threatened animals will gather in Reno, Nevada, for the annual Safari Club International convention.
……………………………………………………………………………………………………………………..
3/ Feb 2020 Speak up for better treatment for hens! Right now, the World Organization for Animal Health (OIE) is drafting standards on the welfare of laying hens as part of its Terrestrial Animal Health Code. Governments, veterinary associations and many financial institutions consider OIE Codes as the basis for policy, and these chapters may form legislation in OIE member countries. However, the international egg industry is pressuring the OIE to remove language in the current draft chapter that states that resources for hens to perform natural behaviors "should be provided" and are "desirable".
We have an opportunity now to demonstrate that citizens around the world want an end to cage confinement of laying hens, and we need to voice support for the OIE in recognizing that hens need enough space to be able to express their most important natural behavior. See:
https://action.hsi.org/page/46470/action/1
……………………………………………………………………………………………………………………………..2-2-2020. This is the reality of many zoos around the world and why Pan Orthodox Concern for Animals is against the reality and concept. This poor creature is displaying a classic example of stereotypical behaviour. There are much better ways to see animals than this sort of institutionalized abuse to animals. The leading campaigners in this field are the Born Free Foundation established decades ago by Virginia and Bill Travers. This organisation continues their fight under the leadership of their very knowledgeable son Will. This video was take in çekmeköy zoo in turkey . https://twitter.com/i/status/1223579266299895808
………………………………………………………………………………………………………………….
Jan 27th 2020. Urgent: these lions need you. Dear Dr. Christine,The pictures of the starving lions trapped in the Sudanese Al Qurashi Family Park Zoo have gone around the world.

The emaciated lions are just a few of the many animals that are slowly starving to death here. Just last week, one of the lions died away after months of suffering.

The FOUR PAWS' Rapid Response Team, lead by our specialist vet Dr Amir Khalil, now has the unique opportunity to put an end to this tragedy.

The Sudanese authorities have granted the team permission to enter the country and care for the neglected animals. After months of despair, we want to give them the food, water and medical care they so desperately need.

This mission is a race against time. Can we count on you? Yes, I support this mission For the 4 lions, 3 hyenas, eagles, turtles and snakes, every second counts. In the past months, countless animals have already starved to death and if we don't act quickly, many more will follow.
"The highest priority at the moment is to stabilise and improve the health condition of the animals, and determine long-term solutions for them." – FOUR PAWS veterinarian and head of the emergency mission Amir Khalil.
Please support this urgent rescue mission to save these lions from certain death and protect other vulnerable animals from abuse.Donate for their emergency care On behalf of these animals in need, thank you for your support!
Martin Dale
Head of Fundraising
FOUR PAWS UK
…………………………………………………………………………………………………………………………
Adopt A Dog Cyprus Αυτή είναι η Λούνα κάποιος την έλουσε με οξύ στους Αγίους Αναργύρους.. μετά από πολύμηνη διαμονή στο νοσοκομείο τελικά τα κατάφερε ! Αν δεν βρεθεί μια οικογένεια να την αγαπήσει και να την κάνεις μέλος της θα βρεθεί πάλι στους δρόμους με κίνδυνο να περάσει τα ίδια.
Παρακαλώ κοινοποιήστε. https://www.facebook.com/photo.php?fbid=3450715664969833&set=a.725451340829626&type=3&eid=ARDIGqBrURFBhHghy6jkTF3SySbruQOCO3icbQFeTKZaztNoPHBcqV0W4ODF4f3E4r2rSZhnWspDrKc_&ifg=1
…………………………………………………………………………………………………………………………………
Animals need your help!
Dear Pan Orthodox Concern For Animals,
Today, an exhausted young donkey will struggle to haul a clueless
tourist up a steep hill. Every one of the hundreds of steps she takes to reach the top sends pain shooting through her tired legs as she
strains to carry a human who is nearly half her weight on her back.
She desperately needs a drink of fresh water and a moment of rest – but she knows that if she stops or slows, a handler will beat her with a wooden stick. When she grows too worn out from her daily hard
labour, she will likely be abandoned to die. Will you help PETA protect donkeys and all other living, feeling beings by becoming a member today?It's been nearly two years since PETA and our international
affiliates first revealed the suffering of donkeys and mules who are
forced to trudge up and down more than 500 steps on the Greek
island of Santorini while overloaded with tourists or gear, and their misery hasn't let up.When they aren't working, the animals are
made to stand in direct sunlight, sweltering in the blazing heat.
They're tethered so tightly that many can't even reach the single
water bucket that's insufficient to quench the thirst of so many
exhausted animals. Tight chain halters and sharp wire muzzles dig into their faces, leaving wounds that buzz with flies. Their bodies are
covered with raw spots and gaping wounds from ill-fitting equipment and routine beatings – yet profit-hungry owners refuse to provide
them with any veterinary care. Despite promises of action by the
Greek government, weight limits and other protective measures
often go unenforced on Santorini – leaving donkeys and mules
completely vulnerable and in need of kind people to help them.
Donkeys and other animals need our assistance, and your
membership gift to PETA will help power all of PETA's hard-hitting
campaigns against suffering in the months ahead.Our work is
inspiring more tourists than ever to shun cruel animal rides and opt for safer, more humane alternatives – like the cable car that's been
operating for decades on Santorini. And – following recent outcry
from PETA affiliates and supporters worldwide, high-profile
demonstrations at Greek embassies around the globe, help from
celebrities like The Smiths rock icon Johnny Marr and Athens-born
Mötley Crüe drummer Tommy Lee, and a powerful advertising
campaign in coastal towns neighbouring Santorini – Greece has also promised to impose steep fines for forcing donkeys to carry more
weight than the legal maximum.But we can only be sure that no
donkey or mule is suffering on Santorini when "animal taxi" rides
are banned. We can't let up until the day that no animal is tormented for tourism or any other reason.We must keep building on our momentum, and we need you with us. Please support PETA's work for donkeys and all animals by making a membership gift today.Thank you
for your compassion.
Ingrid E Newkirk
Founder
………………………………………………………………………………………..